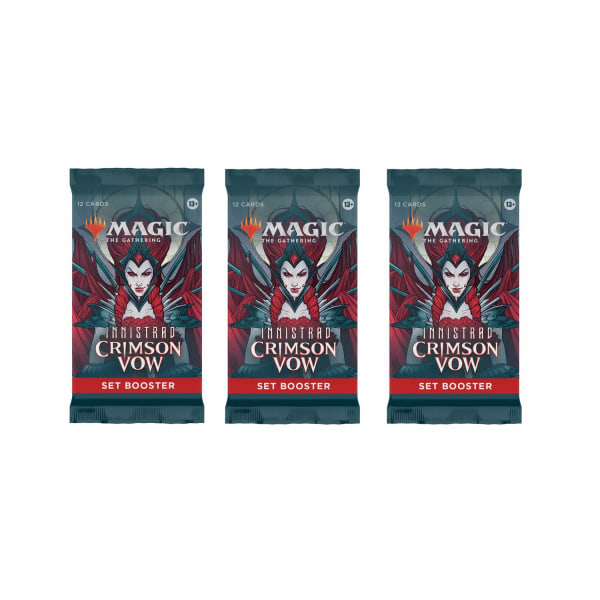 Magic The Gathering Innistrad Crimson VoW SET Booster 3-Pack multifärg
---
Snabbare leverans
mån, 5 dec - ons, 7 dec
1-3 arbetsdagar
---
Magic The Gathering Innistrad Crimson VoW SET Booster 3-Pack

Return to the gothic horror plane of Innistrad for a sumptuous vampire wedding—as honored guest or delicious entrée 

Toast to the Terrifying Bride
"Our kin cheer this endless night like it's some recompense, handed freely to every upstart with a ruffled shirt and a thirst. It is not 'our turn.' It's mine."—Olivia Voldaren
As an eternal night falls upon Innistrad, Olivia Voldaren prepares to marry and claim ultimate power over the vampire elite.
The decorations are ready, the vows have been written, and the humans cower in terror.
RSVP with your preferred entrée blood type, and let the wicked revelry begin!

Dress to Impress
A full guestlist of Innistrad's vampire elite have arrived in their finest attire, and it's going to be one wicked party.
Showcase Fang Frames
Collect Vampire cards with opulent alternate art, showcase frames, and a mean bite. Each showcase Vampire card in Crimson Vow is bordered by a frame of ornate columns and sharp, fang-inspired corners.
Showcase Fang Frame cards can be found in some Crimson Vow Draft, Set, and Collector Boosters.
Eternal Night Lands & Legends Return
With black and white alternate-art inspired by classic horror films—showcase Eternal Night cards are back in Innistrad: Crimson Vow.
Embrace the beauty of darkness with ten more Eternal Night Full-Art Basic Lands and a creepy collection of Eternal Night legendary cards.
One showcase Eternal Night Basic Land can be found in every Crimson Vow Draft, Set, and Collector Booster. The Eternal Night Land is a traditional foil in every Collector Booster and in 15% of Set Boosters.
Eternal Night legendary cards can also be found in some Draft, Set, and Collector Boosters.

Dracula Series Cards
Fight off the creatures of the night with the legendary vampire hunter, Abraham Van Helsing. Or fill the skies with a brood of vampire tokens under the command of the prince of darkness himself.
A collection of cards from Innistrad: Crimson Vow have been reimagined with alternate-art inspired by the world and characters of Bram Stoker's Dracula—including a Count Dracula planeswalker card!
With every Crimson Vow Draft Booster Box, Set Booster Box, and Collector Booster Box, you'll get one traditional foil box topper card from the Dracula Series.
Dracula Series cards also appear in Collector Boosters—with at least one Dracula Series card in every Crimson Vow Collector Booster, and the possibility of up to two more in foil.

Sinister Themes
Flaunt your power and play with Crimson Vow's horror themes with the introduction of "Blood," "Cleave," and "Training."
Blood: Create Blood tokens, then sacrifice them for a refreshing drink that triggers powerful abilities.
Cleave: Make your spells even more powerful by cleaving out the rules text in brackets that dares try to limit your ambitions.


Description:
Each Set Booster contains 12 Magic cards, 1 Art Card, and 1 token, ad card, Helper card, or special card from Magic's history (a card from "The List"). Each pack contains a combination of 1–4 Rares and/or Mythic Rares, 2–7 Uncommons, 3–8 Commons, and 1 Eternal Night Full-Art Basic Land card. One non–Art Card and non–Land card of any rarity is a traditional foil. The Eternal Night Basic Land card is traditional foil in 15% in packs. A foil-stamped Signature Art Card replaces the Art Card in 5% of Set Boosters, and a card from The List replaces the token or ad card in 25% of Set Boosters

Product Details:
- 3 x Booster pack
- Best MTG booster to open just for fun
- 12 Magic: The Gathering cards per booster pack
- 1–4 Rares and/or Mythic Rares + at least 1 foil in every pack
Recommended from 13 years!!

Artikel.nr.
e6a5810b-e0bf-41e8-9f56-17237b44ff76
---
Magic The Gathering Innistrad Crimson VoW SET Booster 3-Pack multifärg
---
Snabbare leverans
mån, 5 dec - ons, 7 dec
1-3 arbetsdagar
---
---